New Control Panel
Client / End User – Ruxley Manor Garden Centre
Location – Sidcup, London
Main Contractor – IDWe Ltd
Summary of Services Provided:
The garden centre had a tail-lift installed from a truck, together with the relevant control gear, to transport goods between the storage and loading levels.
An insurance inspection required some safety improvements to be incorporated. However, at the time of our site survey of the existing control system, the control panel had sustained significant damage through water ingress, and it was deemed unserviceable.
Services Completed included:
We were employed to design and manufacture a new panel to incorporate all the required operational and safety requirements.
The access gates would be inhibited from opening unless the lift was in the appropriate position, with a key switch facility to override for maintenance.
New up and down controls were added at upper and lower levels adjacent to the gates.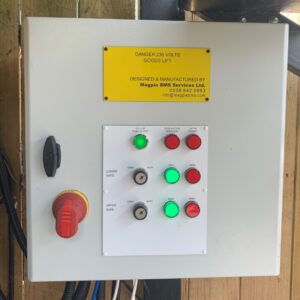 Result:
Our engineers installed and commissioned the new control panel and demonstrated operation to the client.
Can we help you? We offer Building Controls, Control Panels, Automation, Service & Maintenance and more.
Please send an enquiry here or call 020 8642 0863.
View our full services here.